Whitesville Central School
Board of Education
The five-member Board of Education is elected by district residents and voluntarily serves as your representative in policy matters concerning the school district. Elections are held each year on the third Tuesday in May; each member serves a term of three-years.

CONTACT INFORMATION
Tracey L. Waters, District Clerk
Phone: 607-356-3301, ext. 221
Email: twaters@whitesvillesd.org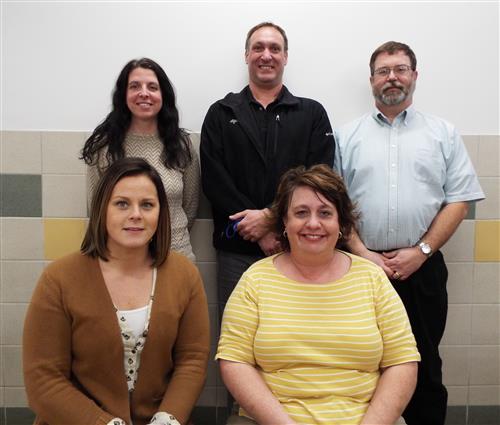 From left to right; Top row: Jane Hall, Charles Cutler Jr., Jeffrey Erdmann Bottom row: Erica Matteson, Monica Acomb
President - Jeffrey Erdmann
Mr. Erdmann has served as a Board member since July 2009. His current term expires June 30, 2024.

Vice- President - Jane Hall
Mrs. Hall has served as a Board member since July 2012. Her current term expires June 30, 2026.
CONGRATULATIONS Mrs. Hall on being reelected as Board of Education Member at the May 16, 2023 Annual Vote.

Members:
Charles Cutler, Jr.
Mr. Cutler has served as a Board member since 2015. His term expires June 30, 2024.

Monica Acomb
Mrs. Acomb has served as a Board member since 2016. Her current term will expire June 30, 2026.
CONGRATULATIONS Mrs. Acomb on being reelected as Board of Education Member at the May 16, 2023 Annual Vote.

Erica Matteson
Mrs. Matteson was elected to serve on the Board at the May 17, 2022 Budget Vote/Election. Her terms expires June 30, 2025
All regular meetings are tentatively scheduled on the SECOND Tuesday of each month and are held in the high school library at 7 PM unless otherwise indicated.
2022-2023 Tentative Board of Education Meeting Dates
**The Board will meet on Tuesday, May 30, 2023 at 7:00 PM for a Special Meeting (Executive Session Only) in the Superintendent's Office to discuss Collective Bargaining.
The April Regular Board Meeting has been rescheduled to April 18, 2023.
The Board provides a portion of time at each meeting for members of the public to speak on matters under consideration. They believe it is crucial for them to hear from community members. All speakers and visitors must maintain civility and mutual respect. Questions or comments may be brought to the Board's attention at this time. Please address the Board directly, rather than the audience. Each individual speaker is allotted three (3) minutes to speak.